Tutorial for Using Parabolic SAR on Pocket Option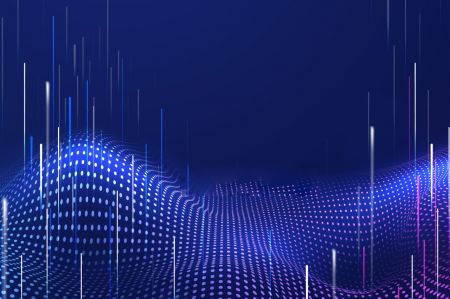 The Parabolic SAR indicator overview
The Parabolic SAR is one of the indicators you will find in the Pocket Option interface. The literal meaning of SAR is "stop and reverse". The indicator follows the price and shows the point where the trend reverses. On the chart, you will see it as dots appearing below or above the candles.
This guide's purpose is to give you the necessary knowledge on how to configure and how to effectively use the indicator on the Pocket Option platform.
The Parabolic SAR indicator configuration
Naturally, you have to login into your Pocket Option account first. After you choose the instrument, select the Japanese candlestick chart.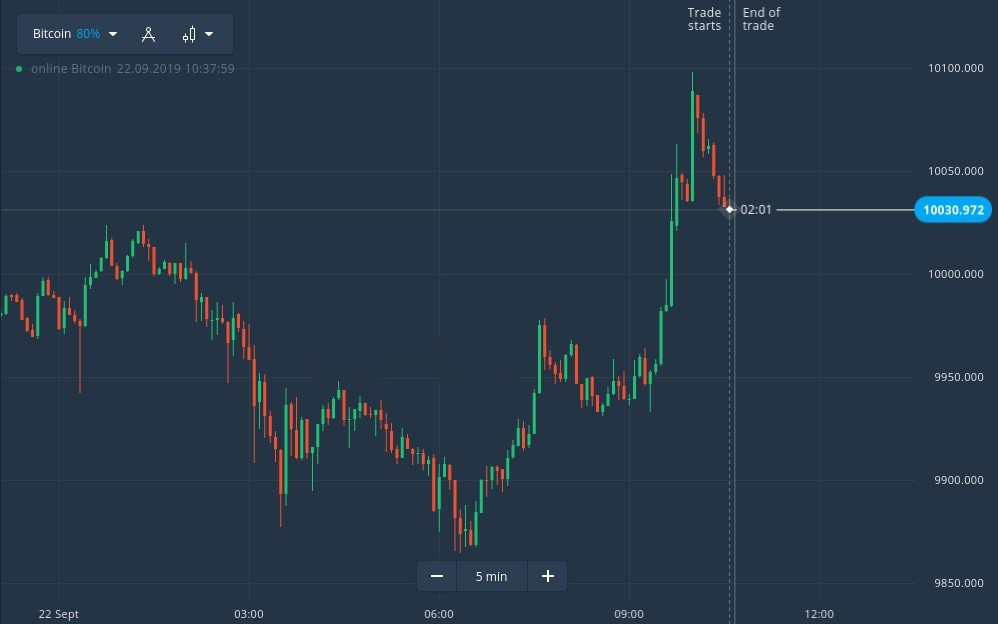 On top, you will find the indicators' select button (1). Click it and then choose "Parabolic" (2) from the trend indicators.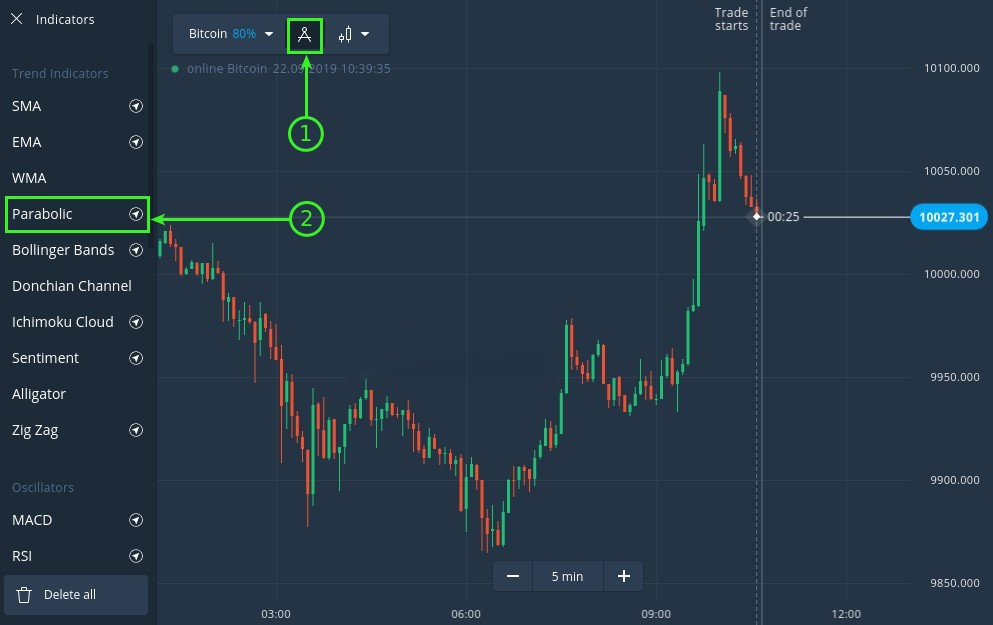 You have just added the Parabolic SAR indicator to your chart.
How to trade with the Parabolic SAR indicator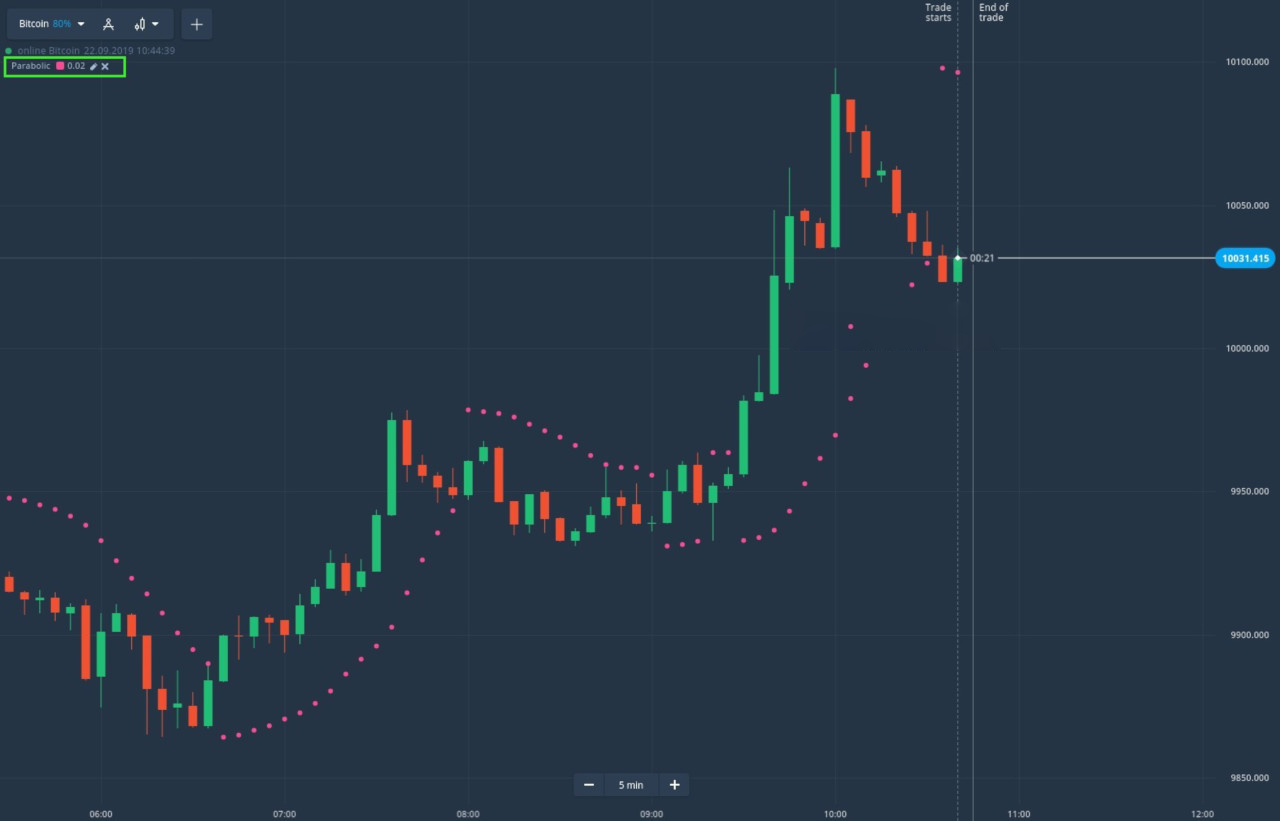 Before we start, you should learn to read the PSAR (Parabolic SAR) indicator.
When the dots are visible under the candlesticks, there is an uptrend. When the dots are above the candlesticks, there is a downtrend.
Trading with the Parabolic SAR indicator is to enter the position when the trend reverses. And this happens when the candle reaches the dots.
So, when there is an uptrend and the dots are below the candles, you should wait until Parabolic SAR crosses the price chart. Now the trend will reverse and it is time to enter a sell position. On the other hand, when there is a downtrend and the dots are above the candles, you should also wait until it crosses the price chart, but this time you should enter a buy position.
Watch the first PSAR dot which comes up after the indicator crosses the price chart.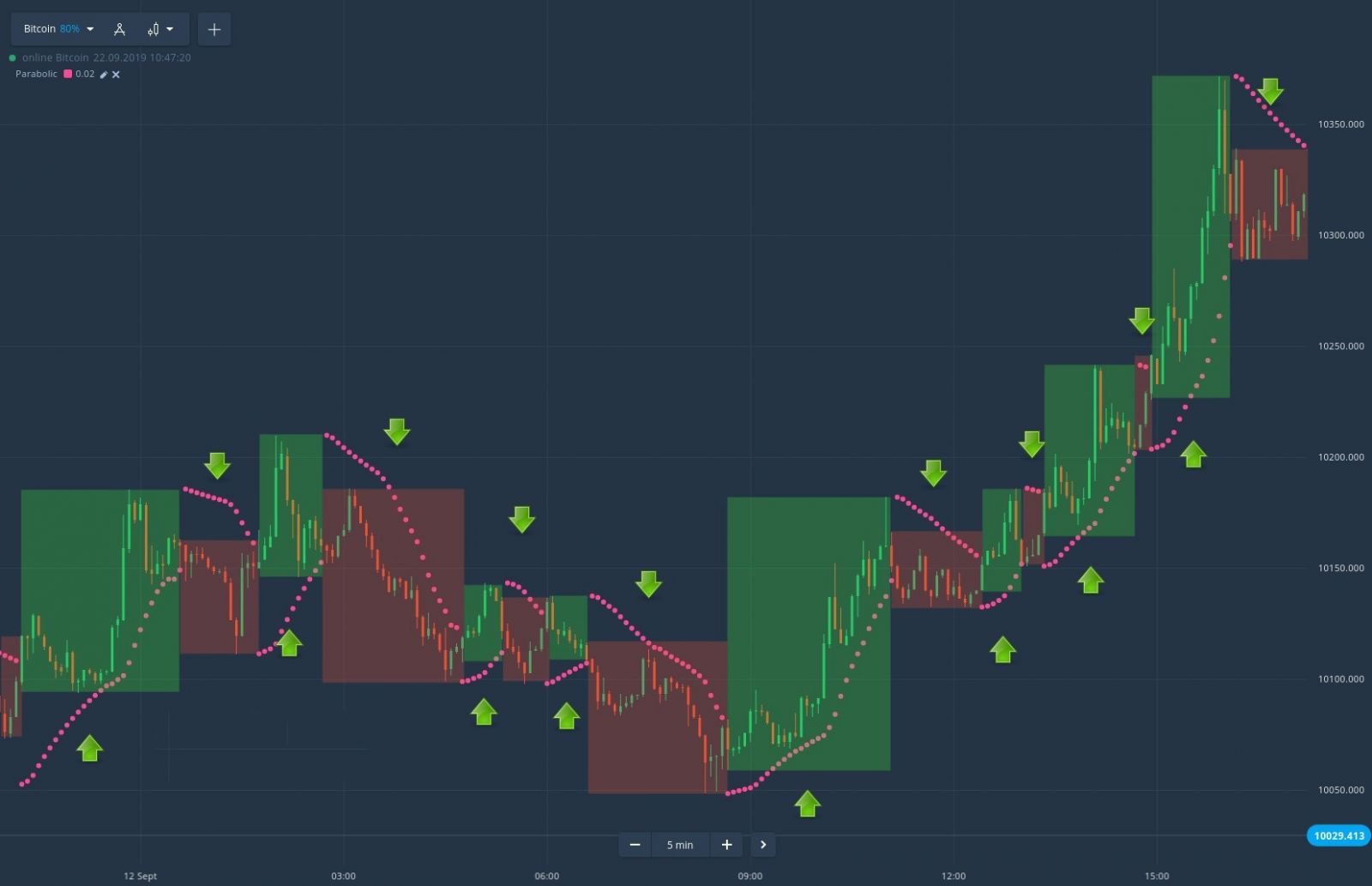 If you are trading CFDs on Pocket Option you can use the Parabolic stop and reverse as a dynamic stop loss level. You can adjust your stop loss of the open position candle by candle.
Extra comments on Parabolic SAR indicator
You can rely on the Parabolic SAR indicator as it is one of the most effective ones. But be aware that it works well at long intervals. Do not use it if you want to trade a 1-minute timeframe. In such a case small price movements will work to your disadvantage and you can easily lose money. As you can see in the charts above, main trends work over a longer period of time. And within them, you can notice bigger and smaller price fluctuations. That is why you should choose longer intervals. It is just more likely that the dominating trend is maintained within a longer period of time.
Now is the time to put the knowledge into practice. Check the Parabolic SAR indicator on a free Pocket Option demo account. Open one if you don't have it yet and write in the comments section below how your trading went.